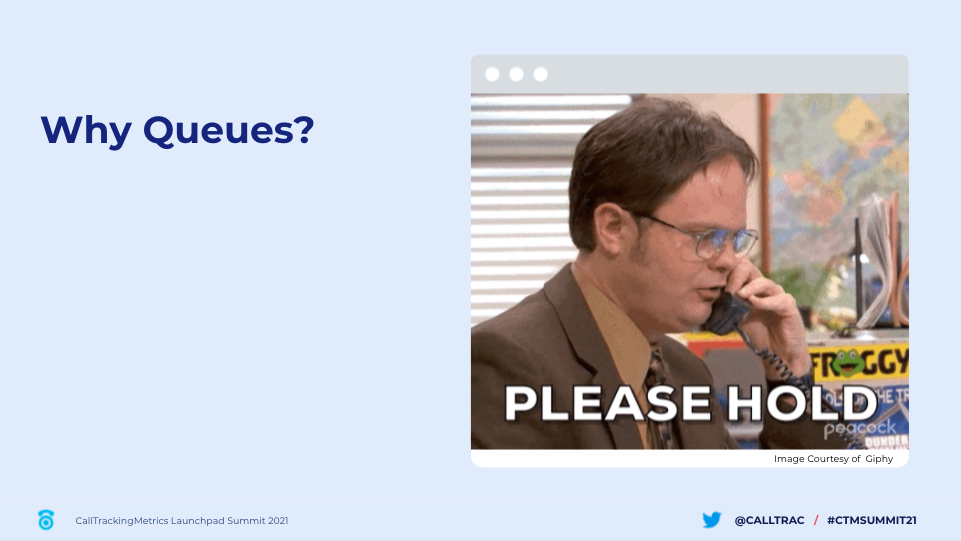 What are the benefits of routing to Queues?
"What are queues, and why do I need to use them?"
"What value do queues bring to my customers?"
These are questions I often get asked by clients. When I think of queues, I think of rolling out the metaphoric "red carpet" for the person who is calling. I ask myself,  "How do I make my client's wait time the most enjoyable? Can I even make them forget that they are waiting at all?"
These questions bring us to an even bigger question, which is, " What does an enjoyable wait time look like?"
What is an enjoyable wait time?
Most of us have experienced an enjoyable wait time. Movie theaters often do a great job of making the wait time before the start of a movie pleasant. They play fun movie trivia and highlight upcoming events and party opportunities. Before you know it, the time has passed and your movie has begun.
Take-out delivery apps are another example of an enjoyable wait time experience. The moment you place your order you can track its status in real time, from your food being prepped, to in the oven, to out for delivery. Some apps even let you track the delivery driver so that you know exactly how long you are going to be waiting.
Transparency and Entertainment
The secret sauce that separates these waiting experiences from so many bad waiting experiences are two simple concepts:
Transparency
Entertainment
Humans are curious. Our curiosity tends to increase exponentially when we have to wait. We want to know exactly how many people are in front of us and how soon we can be helped. Being transparent with your clients about how many people are in line and the expected wait time will help free waiting clients from the worry that they've somehow been forgotten. Transparency leaves customers in a calmer, more satisfied mindset.
CallTrackingMetrics has several tools designed to elevate your clients' waiting experience, allowing you to set transparent wait-time expectations while keeping them entertained.
Queues give you the ability to set the tone and expectations of their upcoming service. A good queue will keep your clients entertained with waiting music, hold messages, and true AI features that update your client on their position in the queue and their expected wait time. Is the wait longer than you expected? Would you prefer an automated callback, or opt to leave a voicemail? We can do that too!